The short answer to this question is yes. I raise this topic in this blog as I reflect on the way that Pacific communities in New Zealand are commemorating our ancestors participation in the First World War, and whether we were present during the fighting on the Gallipoli peninsula.
The Australian and New Zealand (ANZAC) forces involved in the invasion at Gallipoli in 1915 had a sprinkling of men from the edges of the British Empire and beyond. The provincial and regional battalions and the Native (Maori) Contingent from New Zealand included a small number of men from Samoa, Tonga, Fiji and the Cook Islands.
One of them was Tuainekara Tinirau Tamatoa (George Tuaine) who was born in the Cook Islands. He enlisted in 1914 with the Auckland Infantry Battalion aged 22 years, and was photographed and described by the Auckland Star as the "only volunteer from Aitutaki Island". George landed with the New Zealand forces at Gallipoli in April 1915. Several weeks later in May, he was wounded in the thigh by shrapnel and hospitalised. He recovered and went on to serve with the New Zealand Pioneer Battalion and later the Rarotongan Company before he was discharged after the war in 1919.
Another Gallipoli veteran was Bernard Stanley Gurr, who was the son of Edwin William Gurr and Fanuae'a Eletino Seumanutafa Ainu'u from Tutuila, in American Samoa (Liava'a 2013). When he enlisted he was working as an electrician for a company in Hawera, New Zealand. In August 1914 aged 20, he joined the Wellington Mounted Rifles. Almost a year later, on the 8th August 1915, Bernard was at Gallipoli where he suffered a gunshot wound to the shoulder. In 1916, he made it back home to Hawera, where newspaper reports remarked on the warm welcome home he received from the local community.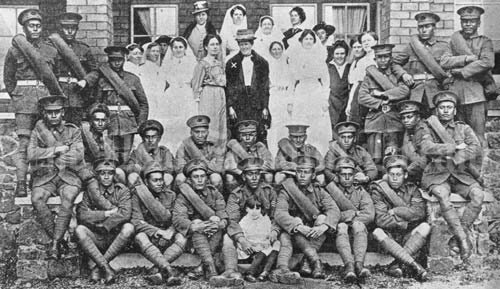 It wasn't until late 1915, that the first groups of Pacific Islanders joined the New Zealand armed forces in significant numbers. Recruitment was particularly focused on Niue and the Cook Islands. Men from Tonga, Samoa, Fiji and the Gilbert Islands (Kiribati) and Tahiti also volunteered, However, it is important to remember that Pacific peoples (including Maori) responded to the First World War in different ways, some rallied to the call to volunteer, while others refused to take part.
The Australian and New Zealand forces in First World War were to some degree multicultural but largely Anglo-Celtic in their make-up. It is only in recent years that Australians have recognised the contribution of troops in the First World War who were of non-European descent. They include the crack Gallipoli sniper Chinese-Australian, Billy Sing, who is now celebrated as a war hero.
For New Zealand's part, the armed forces recruited volunteers from Pacific Island communities that were themselves multicultural and made up of indigenous and non–indigenous people, European settlers and part-Europeans. Some of the European family names you will come across in military service archives have been indigenised through intermarriage and have become leading families in our island communities for decades.
The First World War was a turning point for Pacific Islanders because we came to understand ourselves as being part of and having a role to play in a global community. I think for Pacific Islanders in New Zealand the centenary of the Gallipoli landings and ANZAC Day is far from a celebration of war, but rather a time to acknowledge sacrifice and loss. The need to know if there were Pacific Islanders at Gallipoli is perhaps part of a desire of Pacific peoples in New Zealand to be acknowledged as part of the national commemorations, which are so focused on the Gallipoli campaign. Of course the Pacific Islands story begins before Gallipoli.
A sign that our communities are coming to grips with our history and thinking about it critically is reflected in the growing number of publications, exhibitions and debates on social media and television about the annual Anzac Day commemorations. There is a larger context to the war that we need to understand from a Pacific perspective – a history and legacy of colonialism that took Pacific peoples to Gallipoli and the western front, and had an impact on them beyond these events. As the title of this blog implies there are still many questions to be asked, and a need to reflect on how we should remember as much as remembering not to forget.
Further reading:
Qaravi na'i tavi = They did their duty : soldiers from Fiji in the Great War / by Christine Liava'a. — Auckland, N.Z.: Polygraphia, c2009.
Koe kau to'a na'anau poletau = Valiant volunteers : soldiers from Tonga in the Great War / by Christine Liava'a. — Auckland, N.Z.: Polygraphia, c2011.
Le fitafita mai Samoa : the force from Samoa : soldiers from the Samoan Islands in the Great War / by Christine Liava'a. — Auckland, N.Z.: Polygraphia, 2013