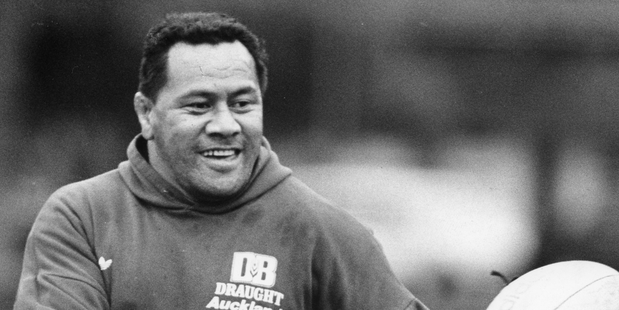 We were all saddened by the recent passing of Auckland and Samoan rugby stalwart Peter Fatialofa (1959-2013). In the last few weeks, much has been written about his wonderful personality and character, his leadership on and off the rugby field and his rich contribution to Samoan and New Zealand rugby.
Ponsonby Rugby Club
In the 1980s, Peter was part of the Ponsonby Rugby Club in Auckland, a club influential in brokering the involvement of PacificIsland players in New Zealand rugby and society at large. In the late 1960s and early 70s, during the period of the infamous dawnraids, Pacific Islanders were not popular in rugby circles and were shunned by certain clubs. Ponsonby created an environment where Pacific peoples could play rugby, interact socially with other New Zealanders and be supported to find employment and housing. In 1970, the selection of Ponsonby player and Samoan Bryan Williams for the All Blacks, began a process that would change the public image of rugby players of Pacific Island descent.
In the 1990s, Peter and Samoa's national rugby team Manu Samoa, like the Ponsonby club in the 1970s, would be trail blazers for the involvement of Pacific Islands players in international rugby. Peter, who was part of a dominant Auckland Rugby team, at the time, would famously captain Manu Samoa to a quarterfinals spot in the 1991 rugby world cup. Live television, highlighted the diversity and flair they brought to the international game and the impact of this visibility was far reaching. Peter's personality, his leadership and great performances from Manu Samoa made them household names – even if some commentators struggled to pronounce them. New Zealanders got to know some of these players very well – a number became All Blacks and took on player or coaching roles in European teams, they included Alama Ieremia,  Frank Bunce, Ofisa Tonu'u and Pat Lam to name a few. The success of Manu Samoa and several wins against tier 1 rugby nations over the following decade, alerted the rugby world to a deep pool of talented players. In the professional era, these players have transformed the game.
While we have only a few things at Te Papa that point to this history, we can all recognise how high-achieving sports people and successful teams like Manu Samoa generate pride within our ethnic and local communities. Sometimes, great leaders and personalities come along that do a little bit more. They transcend ethnic boundaries to become significant leaders in individual sporting codes and of different sporting nations. As the many testimonies published these past few weeks highlight…Peter Fatialofa was one of these people.
LINK:  NZHerald article Peter Fatialofa – brilliant on and off the field